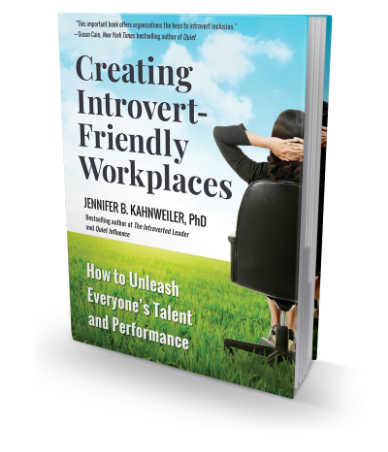 This important book offers organizations the keys to introvert inclusion.

Susan Cain

New York Times Best Selling Author of Quiet
Creating Introvert-Friendly Workplaces
As the diversity, equity, and inclusion wave widens and deepens its reach, introversion is becoming a natural part of that movement. Despite the fact that half the population identify as introverts, traditional workplace cultures are still geared toward rewarding extroverts, ultimately limiting their collective potential. Using stories and groundbreaking research, this Jennifer offers a practical road map for organizations to create inclusive cultures that unlock the power of introverts and their allies. This book is for leaders at all levels in any organization seeking to make positive changes toward increased inclusion–and drive results.
Jennifer presented to our audience of 450 executives, and it was a smash hit. I heard many favorable comments from attendees, and she was swarmed afterwards with questions, comments, and eager book buyers. Next time she will bring more books because they sold out!

David Sjolander

Chief Operating Officer, Hotel Technology Next Generation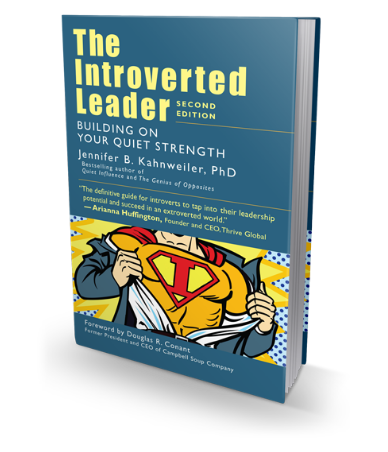 The definitive guide for introverts to tap into their leadership potential and succeed in an extroverted world.

Arianna Huffington

Founder and CEO, Thrive Global
The Introverted Leader
Too many introverts assume—or have been told—that to rise through the ranks they have to change who they are. But you don't have to pretend to be an extrovert to get to the top. Just look at Mark Zuckerberg, Arianna Huffington, or Warren Buffet—all self-identified introverts who have done quite well for themselves… In this new, expanded edition of her pioneering introvert book, Jennifer B. Kahnweiler, Ph.D., CSP, lays out a well-tested, four-step strategy introverts can use to build on their quiet strengths and make it a source of great power. This bestselling book includes fresh information on the unique challenges faced by introverted women, how leaders can shape a more introvert-friendly workplace, customized hiring and coaching strategies for introverts, and the positive correlation between introverted leadership and company performance.
Thank you *so much* for being my ALCTS President's Program speaker at the American Library Association's Annual Conference last week. You went above and beyond in customizing your remarks for our particular audience. Your talk was substantive, lively, and extraordinarily well-received by all of our attendees. You were so gracious about signing copies of your book afterwards, too. I saw you give personal attention to each and every individual in that long line! Compliments on the program continue to roll in. Thank you for being the highlight of this introvert's year as President!

Genevieve Owen

Director at The Williamsburg Regional Library
This groundbreaking book will help organizations truly committed to diversity understand the power of difference.

Suzanne Richards

Vice President of Diversity and Inclusion, Freddie Mac
The Genius of Opposites
Michelle and Barack, Serena and Venus, Mick and Keith, Jobs and Woz, Siskel and Ebert, the Wright Brothers, etc. History is filled with many examples of the successful introvert-extrovert relationship. Opposites like these can make brilliant products and great works of art and can even change history. But great introvert-extrovert partnerships don't just happen. They demand wise nurturing. Without it, they can implode… Bestselling author Jennifer Kahnweiler offers a five-step process that will enable introverts and extroverts to work together harmoniously and achieve more than they ever could on their own. The process can be precarious. The key, Kahnweiler says, is to remember that the introvert-extrovert relationship is most successful when opposites stop emphasizing their differences and use approaches that focus them both on moving toward results. This first-of-its-kind practical extrovert and introvert book helps both temperaments to understand and appreciate each other's wiring, use their inevitable conflicts to spur creativity, find the right roles within the partnership, act like respectful friends, and mine their diversity to give clients the widest range of options. Blending their two points of view allows opposites to see and act on things neither would have separately. Kahnweiler shows you how to perform the delicate balancing act required to create a whole that is exponentially greater than the sum of its parts.
Our March 2019 Columbus Ohio HRACO luncheon was where I had the chance to meet Jennifer and hear her speak. I was blown away by her ability to communicate with the audience and her poise and personality that electrified the overall presentation, "The Introverted Leader". Throughout her speech she engaged with all levels of Extroverts, Introverts, and everyone in between with integrity and whole hearted dedication to the cause: learn about and embrace the inner you, then do the same for those around you. What a gift! I feel truly blessed to come across this amazing lady and will certainly stay in touch and look for more of Jennifer.

Peggy Wells

Manager, IT Delivery, maven, IT Staffing and Consulting Company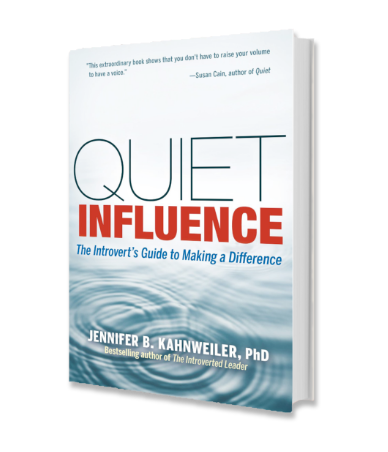 This extraordinary book shows that you don't have to raise your volume to have a voice.

Susan Cain

author of Quiet
Quiet Influence
This is the first book on influencing others aimed squarely at introverts, who make up half of the U.S. population. Jennifer Kahnweiler, bestselling author of The Introverted Leader, demonstrates precisely how introverts can be highly effective influencers and make a difference when, instead of trying to act like extroverts, they leverage six key strengths. This introvert book maps out a powerful process for raising your QIQ (Quiet Influence Quotient) and includes a comprehensive quiz and planning guides to track progress.
Jennifer is an absolute pleasure to work with. She was the keynote for our 2018 annual conference. She kept a room of 140+ IT people engaged and actively participating for over 45 minutes helping them understand the power of introverts and extroverts and how leveraging each others strengths make powerful teams. I would highly recommend Jennifer to speak at your event. She was very easy to work with and took active measures to ensure she was prepared for the type of audience she was speaking to.

Christy Rohmer

Manager Education Services, NYSERNet