Jennifer speaks to any size crowd about The Genius of Opposites, Quiet Influence and The Introverted Leader. Please see the keynote descriptions below.
---
The Genius of Opposites: How You Can Create High Functioning Introvert-Extrovert Teams 
Do you characterize yourself as an introvert, extrovert, or ambivert? Whatever your style, you have to work with people across the spectrum. It's true—opposites attract, and the successful partnerships focus on results and don't get caught up in their differences. Without careful maintenance and balance, they quickly go off the rails. In this program, you will learn how to make two exponentially better than one.
Based on her extensive research and experience, Jennifer will walk you through a framework called The Genius of Opposites Process—the five essential elements necessary for success—Accept the Alien, Bring on the Battles, Cast the Character, Destroy the Dislike, and Each Can't Offer Everything.
You will learn:
The strengths of introverts and extroverts
Special challenges for introverts and extroverts
The 5 key steps necessary for opposites to succeed
How you can apply these tools to your own career, workplace, and life
Take the Genius of Opposites Quiz:
What do you have in common with highly effective opposites?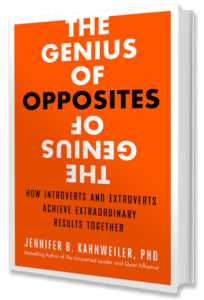 ---
Quiet Influence: The New Wave of Leadership
Did you know that introverts have the most influence when they stop acting like extroverts and rely on their natural strengths? Learn how to implement the Quiet Influence Process and make the most of six natural strengths. Gain tangible tools to help you take quiet time and be a more engaged listener. Both introverts and extroverts will learn practical strategies for making the difference they were intended to make.
You will learn:
Why now is the time for introverts
How to influence and lead as an introvert
What results you can achieve
What practical actions you can apply today!
Take the Quiet Influence Quiz:
Are you a quiet or expressive influencer?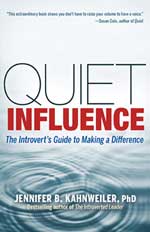 ---
The Introverted Leader: Building On Your Quiet Strength
Did you know that introverts often make the best leaders? Jennifer draws upon stories and research to demonstrate how introverts can succeed as leaders and work with, not against, who they are. You will learn about the characteristics of introverts and how to use the 4 P's Process (Prepare, Presence, Push, and Practice) to lead from a position of strength.
You will learn:
The unique strengths of introverts
Five challenges of introverted leaders
The 4 P's Process of leadership success
To take immediate action steps that get results
Take the Introverted Leader Quiz:
How much do you know about introverted leaders?
---